Disclaimer: When you buy through links on our site we may earn a commission. See Affiliate Disclosure at the top menu of the site for more info.
You may have come across the Click Wealth System in your research on affiliate programs or maybe you got a marketing email about it.  Well, is it a scam?
Ultimately, I don't think Click Wealth System qualifies as a scam, however:
In this post I'll be telling you what I myself have learned about it and why I definitely do not recommend this program.
Click Wealth, as you will come to find out is very much a self-promotional program – limited, risky and hard on the pocket.
Let's start with a basic overview of Click Wealth System.  Then we'll get more in depth.
Who Created It?
The creator of Click Wealth System is Matthew Tang.
How much does it Cost?
The entry fee is $9 but there are three main upsells which amount to hundreds of dollars. Besides this, there is also the cost of solo ad traffic. To get an idea of this, you can pay anywhere from $80 for 80 clicks to $4,000 for 5,000 clicks.
We're already talking about A LOT of money here, so don't be fooled by the $9 cost for Click Wealth System.
What Strategy does Click Wealth System Teach for making money online?
Essentially, you are taught to make money by promoting Click Wealth System itself; that's what this so called opportunity is about.
It's a matter of signing up to ClickBank, getting the autoresponder GetResponse, getting a website designed to capture leads and then driving traffic to this site.
The Three traffic methods provided by Click Wealth System:
A dated eBook and some basic free traffic ideas,
The opportunity of the 100 free clicks offer.
Traffic from Influencers, mainly solo ads that you have to pay for (such as the $4,000 option).
It will depend on what package your customers go for, but you could potentially make up to $250 per sale.
My Ranking for Click Wealth System:

1 out of 10 stars
Do I recommend Click Wealth System: Definitely not!
There are a number of very off-putting issues that I discovered about this program, including the following:
Low quality and dated training, including PLR eBooks.
It's very limited as to how you can make money, being a self-promoting program.
High upsells that you only discover once you purchase the program.
The need to buy other things recommended by the owner to gain access to the next steps.
Having seen many make money online programs like this one, I would have to say that it ticks all the usual 'do not buy' boxes for me and nor would I recommend this program or others that are similar to it.
Got an Alternative? Yes!
For this, see my Wealthy Affiliate Review. It will show you how to turn any interests and passions you have into revenue generating websites. It's Free to try and is loaded with high quality training, immediate help, all the tools you need and tons of success stories from happy members. Learn more here.
Click Wealth System: Comprehensive review
After you purchase the Click Wealth System:
Immediately after you pay the $9 for the program and get your initial access you will be presented with several upsell pages. For me, that's already a red flag. These are offered before you even get access to the members area, but why pay for extra stuff before you've seen the product itself?
Usually, with programs like this, they will still try to get you to buy the pricey upgrades on the back end. Click Wealth System offers 3 upsells amounting to $100s both before and after you get into the members area.
Here's a look at the members area:
How Does Click Wealth System Work?
As shown in the image above, there are a list of steps to complete, (a total of 9) but to unlock each new step, you need to complete the previous one.
Basically, the way it works is that you first learn about the system and become an affiliate to promote it.
You then join Clickbank to allow you to do this.
Next, you have to sign up to GetResponse, an autoresponder.
You are then provided with a website consisting of an opt in page which you set up.
You then chose a traffic method such as the influencer/solo ad traffic they recommend.
Finally, you make sales (if luck is on your side).
You might get to step 3 for example, and then not be able to go any further because you don't want to be forced to sign up to GetResponse, which does have a free trial but it's being pressured on you to the point of you not being able to complete the other steps without it.
And you can be sure that if you follow a link within the system to get the autoresponder, it's an affiliate link.
Again, a big reason why I see little or no value in a system like this is because the only way it teaches you to make money is by promoting the system itself. It's really just the owner getting you to help him increase his own sales. You do a lot of paying in a program like this, and a lot of hoping that you yourself will be paid.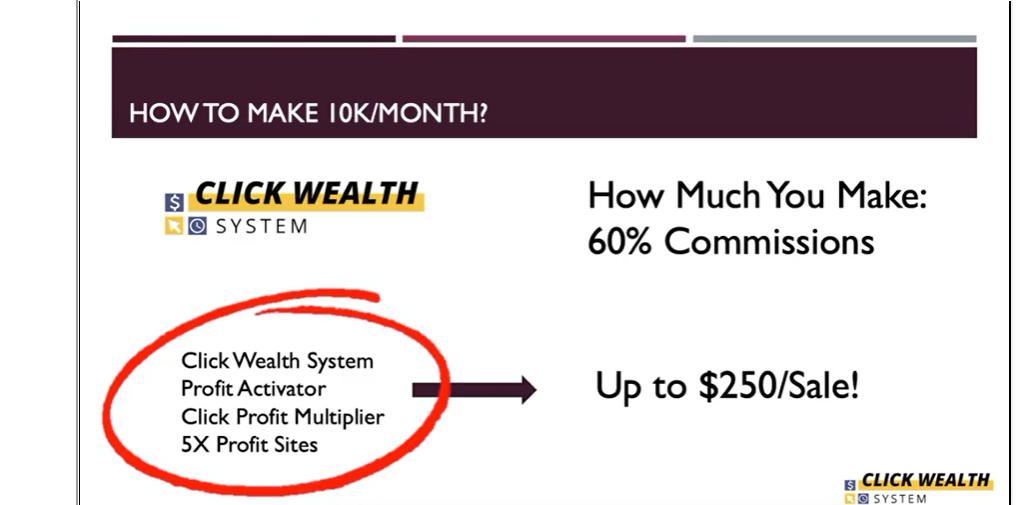 What Traffic Options are Provided by the Click Wealth System?
There are essentially 3 kinds of traffic they talk about:
Firstly, what they especially recommend is what they call influencer traffic which is bascially the same thing as solo ads, where you pay someone a considerable amount of money for clicks on your affiliate links. The problem with this I've found is that a) it's expensive, b) it's unpredictable (similar to gambling) and c) you usually can't verify what type of traffic this is, whether it's cold or recycled traffic or good traffic.
For these reasons I've never been much of a fan of solo ads. I've generally found it to be too risky and too expensive.
Secondly, there is an offer of 100 free clicks in the system, but there's a catch: you have to complete all the previous 8 steps and if you haven't done so, well, there goes all your free clicks.
Thirdly, they basically teach you to go on to social media platforms and forums where you will be dropping your affiliate links. Another method I've never liked. Spamming links around the internet is no way to run a sustainable online business. It's true there are less blatant ways of doing it, but trust me, it's just not easy to actually get clicks and sales with that kind of strategy.
Along with this there is an eBook on ways to get free traffic. However, not only did the owner of Click Wealth System not write this himself, (it's a PLR eBook) but it contains a lot of dated methods, for example, posting on article directories. Now that really is a stretch.
My Overall Thoughts on Click Wealth System:
I have reviewed similar programs like this one, such as the 3 Step Method and Perpetual Income 365, and I have to say they are all pretty sketchy in my opinion, with hyped up sales pages, hidden upsells, self-promotion and more opportunities of spending money than making money, not to mention how they all miss the important element of you learning more about affiliate marketing and making money online.
The 'done for you' systems are always risky and overhyped from my experience; they pretty much never deliver what they promise. It's a common tactic of unethical affiliates to tempt beginners with words like 'easy,' 'fast,' 'no experience required,' etc. But what tends to happen is that the people who fall for these kinds of things end up spending more and more money with no assurance of success.
But Can you Actually Earn Money with Click Wealth System?
I won't deny that it's possible to make the odd commission with Click Wealth System, or even more than that if you spend big.
It relies to a large extent on pricey solo ads which as I've already mentioned, I'm not a fan of and consider it to be too risky. After you've blown a good bit of money with no results, you're left thinking 'now what? Do I just buy more traffic?' And even if you make a sale or two the next time around, you're still losing more money than you earn.
This as well as the other issues I've pointed out with this program just tells me that it's not worth it and there are better options.
Alternative and far better option – Wealthy Affiliate
The alternative option I always suggest to people is not an easy or fast option; it does require you to work hard and consistently, but it's enjoyable work because you are building a business that helps people based on an interest you love, and honestly, this is a far more fulfilling and rewarding way to do affiliate marketing and make a living online in my opinion.
Do it from the ground up and start free to get a good sense of it. I'm talking about the Wealthy Affiliate formula which you can read about here.
I hope this has been helpful.  Leave some comments down below if it has been and I am happy to answer any questions you man have on this general topic.